CHECKING PRICES AND AVAILABILITY
Hotel Clean & Safe
Certified "Clean and Safe" by Turismo de Portugal means that our hotel complies with the recommendations of local health authorities. [ Know more ]
HF Tuela Porto
Perfect for your city break
The HF Tuela Porto hotel is the best starting point to explore this charming city and the surprises waiting for you outside your room window.
Located in Boavista, one of the most important business and shopping centres in Oporto, some of the main tourist attractions are just around the corner from the hotel, such as the gardens of Palácio de Cristal and their amazing views , or the banks of the Douro river, the perfect place for your late afternoon walks .

Casa da Música
, the most impressive concert hall in Oporto, is just a few metres away, as well as the metro station. The cultural programme and gastronomic diversity of the Bom Sucesso market is available just around the corner.
RNET nº:2879
It's the perfect city for you to get lost in, not only for its picturesque streets, but also for its cultural, historical and artistic richness , knowing that in the hotel, you can find all the space and comfort you need to rest, whether in the bar or in your room, where you can recharge batteries for the following day, which always start with a delicious breakfast served in the restaurant. 
Room-service - from 7 am to 00 am

Laundry service - from 9 am to 5 pm (except SUN)

Safe deposit boxes at the reception and rooms

Free Internet in all the hotel

Babysitting service by request

24h Private parking inside : 9 EUR /day

Tours and excursions available for sale

Bike rental from 9EUR/day

Access for clients with reduced mobility
Restaurants and bars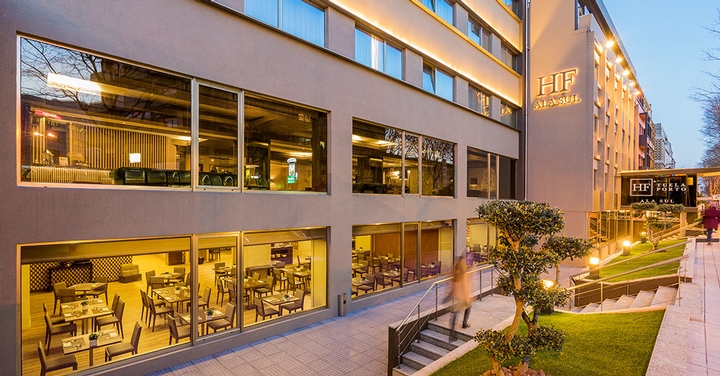 Restaurant Pimenta Preta
HF Tuela Porto
07.00 am - 10.30 am | 07.30 pm - 10.30 pm

Recently renewed and full of natural light, the Pimenta Preta restaurant offers you the best of the Portuguese cuisine.