2 cities
8 hotels
millions of people
countless emotions!

Feel at home ABOUT THE HF GROUP
HF Hotels is a leading brand in the Portuguese market. As one of the main urban hotel operators in Portugal, our presence is characterised by consistent investment and continuous innovation.
The hotels under the HF brand are located in the heart of the two main Portuguese cities: Lisbon and Porto.
With more than a decade of experience and 8 hotels, which range between 3- and 5-star categories, in a total of 1320 rooms, the HF Hotels Group offers you all the comfort and convenience you desire, with quality, design and on point trends!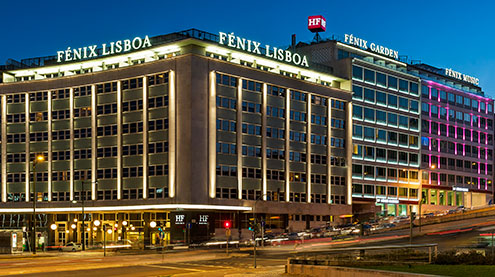 Each hotel tells its own story, while also sharing the story of its city.
Get lost on the
luxurious Avenida da Liberdade
starting at the
HF Fénix Lisboa
, understand the true meaning of being Portuguese in a
Casa de Fado in Alfama
or lose track of time and space while contemplating the city's typical light. You'll be even more breathless with the views from the
HF Fénix Music
rooftop, while the
live music
of the lounge bar sways you to the beat of its own story.
COMPANY HISTORY
2004
The HF Hotels Group was born in 2004, the year in which the HF Ipanema Park, HF Ipanema Porto, HF Fénix Porto, HF Tuela Porto and HF Fénix Lisboa hotels were integrated into a hotel group philosophy.
2008
In 2008, the Group opened in Lisbon its first hotel built from the ground up, the HF Fénix Garden.
It was also the first hotel in Portugal with 100% LED lighting and heated through solar panels.
2009
In 2009, the Group acquired the HF Fénix Urban, also located close to Praça Marquês de Pombal, in Lisbon.
2015
In 2015, the Group opened the second hotel in Lisbon built from scratch, the HF Fénix Music.
As a hotel that celebrates music, the HF Fénix Music stimulates every sense, a journey through the universe of music, from the moment you arrive until the moment you leave. The HF Fénix Music was created to provide its guests with a musical experience right in the heart of Lisbon, thanks to its vibrant, rhythmic and melodic decoration that, combined with state-of-the-art technology, offers you a complete immersion in the world of music.
Discover the HF hotels in Lisbon
Discover the HF hotels in Porto