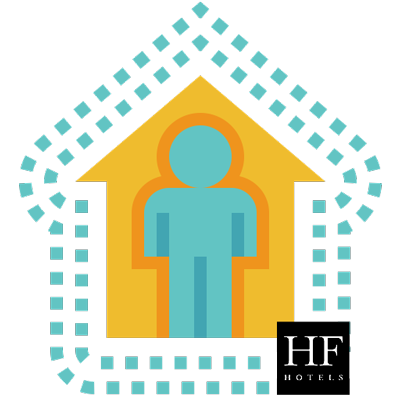 COVID-19 information
HF Hotels in Lisbon and Porto
Our priority is to ensure the well-being and safety of all our guests and employees.

Health and safety for your trip
We're doing our best to provide you with a safe stay. With this in mind, we have implemented a contingency plan, oriented towards the prevention and mitigation of the risks associated with COVID-19, so that our guests feel protected in our home as if it was their own.
Learn more about our current plan, which is constantly being updated. If you need any further information, please contact us directly.
We're committed to your health and safety
We closely monitor all developments regarding the current pandemic situation and we adopt the necessary procedures and protocols indicated by the World Health Organization (WHO) and by the Portuguese Directorate-General of Health (DGS) and Government.
General
---
Continuous training provided to our employees and an awareness and information campaign in all our hotels;

We provide hand sanitiser, masks, gloves and visors to our employees;

The appropriate personal protective equipment for each position was assigned to each department, according to the DGS guidelines;

There are hand sanitisers in different spots of the hotel to be regularly used by everyone;

The existing cleaning plan, both for the common areas and the rooms, is available for consultation at the hotel.
Common areas
---
All common areas are subject to a regular and periodic disinfection plan, with particular focus on the surfaces that are more exposed to physical contact, such as counters, door handles, lift buttons, etc.;

Reception desks are properly disinfected whenever used and all equipment used during check-in is disinfected at the same frequency;

Plexiglass screens were installed at the reception desks of each hotel;

A specific prevention plan for all leisure areas, namely swimming pools and gyms, following their reopening, and according to the Portuguese authorities' guidelines.
Rooms
---
The hotel?s capacity is reduced to 50%, so that less rooms are occupied on each floor;

Appropriate cleaning materials are used, namely single-use materials, ensuring an effective disinfection;

Rooms are cleaned in phases and in compliance with standards appropriate to the requirements of the current situation;

Articles that are subject to greater contagion (such as magazines and other information leaflets) were temporary removed from the rooms;

All products that remain in the rooms and all surfaces are properly disinfected with each cleaning.
Restaurants and bars
---
We strictly meet all HACCP standards and we adopted an exceptional cleaning and disinfection plan in all food courts, according to the DGS guidelines;

The maximum capacity of our restaurants and bars was reduced to 50% and the new furniture layout complies with the social distancing rules indicated by the WHO and the DGS;

All surfaces are regularly disinfected with particular focus on those that are more exposed to physical contact;

All the hotel?s buffet services were temporarily suspended, but the à la carte service and room service remain available.
Event venues
---
The cleaning plan of our event venues complies with the necessary disinfection rules, which can be consulted by the clients;

Their maximum capacity was reduced in order to comply with the social distancing rules indicated by the WHO and the DGS, depending on the requested layout;

All office supplies (notebooks and pencils) were temporarily removed from the event venues, but can be replaced whenever requested by the client, at no charge;

All surfaces and equipment are properly disinfected between events and during breaks;

The food & beverage service was optimised for the event venues, ensuring an individualised service and complying with the social distancing rules and the individual protection standards for employees and clients.
Reservation and cancellation policies
Considering the current unstable situation, we have also updated our reservation and cancellation policies to offer you greater flexibility and safety when you make a reservation with us.
Hot Deal rate:
Discount for reservations made up to 8 days in advance, with free cancellation up to 8 days prior to check-in.


Early Booking rate (flexible):
Discount for early booking, with free cancellation up to 30 days (Porto) or 60 days (Lisbon) prior to check-in.


Flexible rate:
Free cancellation up to 48 hours.


Payment conditions/Guarantee:
The total amount of the reservation will be charged on the due date of the policy you have chosen.


Safe payment:
When you book with us, you will receive a payment request, thus avoiding the contact process during check-in at the hotel. You can also choose contactless payment methods during check-in.
Hotel Clean & Safe
Certified "Clean and Safe" by Turismo de Portugal means that our hotel complies with the recommendations of local health authorities.